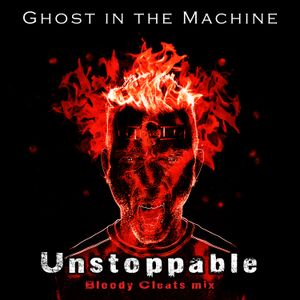 GHOST IN THE MACHINE release Unstoppable (Bloody Cleats Mix) on Sliptrick Records - Dec 17, 2021
Available now at: Apple Music | Spotify | & other major stores 
Released by: Sliptrick Records 17.12.21 
From the album: Journey To The Otherwise 
Format: Online Single/Lyrics Video 
Genre: Rocktronica | Alternative | Post Industrial 
Alternative US group Ghost In The Machine (GITM) has unveiled Unstoppable (Bloody Cleats Mix), the lead single from the upcoming album Journey To The Otherwise out January 11, 2022 via Sliptrick Records. 
Unstoppable is a gritty alternative influenced rocktronica song filled with musical builds and intensity. Anthemic vocals embody the lyric that speaks to an honest lesson on the relentless competitive spirit. Not only the victories but also the losses and pain on the journey to becoming legendary. Unstoppable could sit along side the likes of Panic! At The Disco, Foo Fighters, Imagine Dragons, Thirty Seconds To Mars and more on an alternative rock playlist. 
The Unstoppable single is accompanied by the release of a lyric music video that illustrates to viewers through animation the story of the struggle in becoming unstoppable. 
Unstoppable (Bloody Cleats Mix) | Released December 17th, 2021 via Sliptrick Records