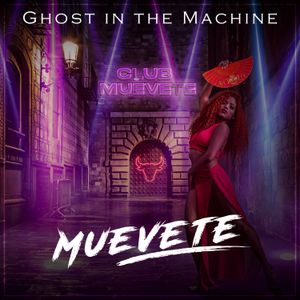 GHOST IN THE MACHINE release Muevete on Sliptrick Records - Aug 19, 2022
Available now at: Apple Music | Spotify | & other major stores 
Released by: Sliptrick Records 19.8.22 
From the album: Journey To The Otherwise 
Format: Online Maxi-Single/Official Video 
Genre: Rocktronica | Alternative | Post Industrial 
Muevete is a world fusion of EDM and rock shaped by a Spanish influence. Inspired by nightlife and Flamenco of southern Spain, acoustic guitars play dark and tense passages over heavy bass and a solid beat. Rock, electronic and industrial elements intermingle creating the atmosphere. Vocalists C4 and Caela play off each other singing themes of dancing, festival, freedom, expression, celebration and enjoying life to the fullest. 
The single includes 2 remixes from genius DJ/producer Erik Lee. Virus (Erik Lee Remix) is eerie tech-house with drone filtered synths that eventually devour the song. A musical expression of the pandemic invoking overwhelming feelings of frustration and fear. Rodeo (Erik Lee Remix) exudes attitude with a pushing groovy beat and moody synths under crunchy guitars. It also features seductive guest vocals of Caela. 
The Muevete single is accompanied by a music video and is set in those Spanish quarter streets where things go bump in the night and shadowy figures lurk down dark alley ways. During a fiesta, strangers meet and live life to the fullest. In that madness, could they find a special connection? 
Muevete Maxi-Single | Released August 19th, 2022 via Sliptrick Records